March is National Reading Month, a month that celebrates the joys of reading and the entertainment of a good book. So what can parents do when they have a child who just isn't interested in reading or has struggled to learn to read?
Mompreneur Sherri French is here today to share some new and innovative ways to get children excited about learning to read.
Circus Vowels LLC- currently on Kickstarter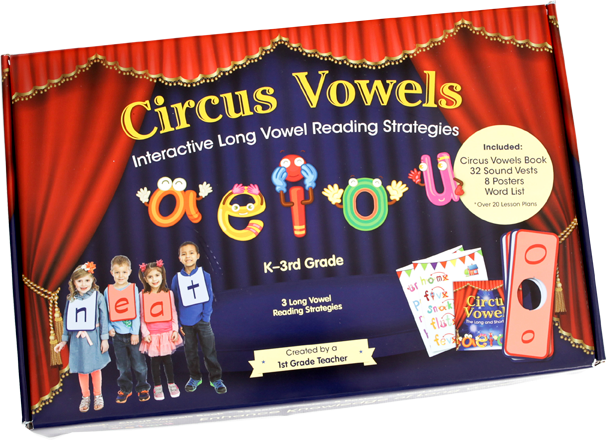 The book Circus Vowels has simple, fun, and engaging reading strategies that focus on the vowels.
Amazing tool for parents to read to their children to help them understand those crazy vowels.
With each purchase on Kickstarter, a Circus Vowels book will be donated to children in need; Circus Vowels Interactive Reading kits will be donated to classrooms in Title One schools.
uKloo- starting at $15.95
Disguised as treasure hunt, uKloo games are award winning get-out- of-your-seat reading games that gets kids excited about reading!
Excellent for reluctant readers and recommended by teachers as an alternative to a book for kids that have a problem sitting still.
uKloo Early Reader and uKloo Riddle Edition are also great games for for Easter hunting.
The Kindergarten Tool Kit - $18-$59
Product kits:

Full Kindergarten Toolkit- $59
Lesson Booklet- $39
Flashcards set- $18

Created by a former Kindergarten teacher.
The Kindergarten Toolkit is an all-encompassing guide to take the guesswork out of knowing if your child is truly prepared for kindergarten.
Our Toolkit is designed for preschool aged little ones 2-6.
Take 15% off with code READ.
Subscription service that sends picture books to the house every month.
Family Package- $17.99

Contains 1 board book, 1 picture book, one 'Challenge of the Month' and one guide for the picture book.

Board Book Package- $14.99

Contains two board books and a "Challenge of the Month". Perfect for a babies and toddlers.

Picture Book Package- $19.99

Contains two picture books and a guide for each book. This package is the best value!
LeapFrog LeapStart- $39.99
LeapStart is an interactive learning system that gets kids ages 2-7 excited about counting, learning to read, problem solving and more through fun, replayable activities.
The magic behind LeapStart is a stylus that reads invisible dots on every page, triggering questions, challenges, songs, jokes and more.
The LeapStart library consists of more than 25 books. The Peppa Pig interactive storybook that builds reading comprehension and vocabulary skills.
Square Panda Phonics Playset- $99.95
Square Panda is a multi-sensory learning system designed for kids 2-years and older. It builds early reading skills using a tablet, library of games and physical smart letters.
Square Panda grows with the child and helps them become a confident reader using a multisensory approach, which research has shown is the most impactful way to help kids learn to read.
Parents have access to a Parent Portal, which allows them to keep track of their child's progress and see problem areas in need of attention.