It's Twitter official now
From CNN's Hannah Ritchie
The official Twitter account for Kensington Palace updated its profile description to include The Duke and Duchess of Sussex, Harry and Meghan's new official titles.
The profile picture includes both Harry and Meghan, as well as William and Catherine, Duke and Duchess of Cambridge.
The account will share any news about the couple on its feed going forward.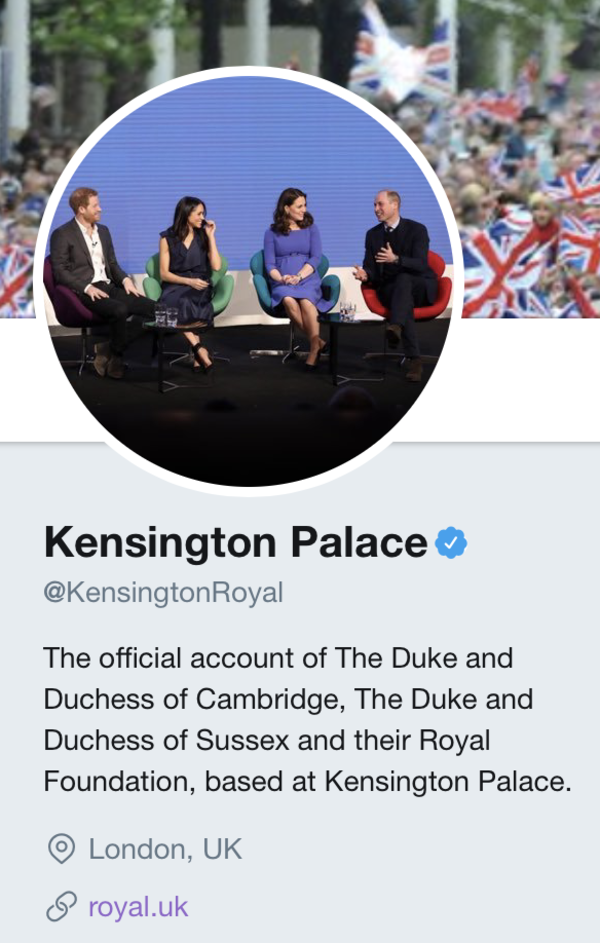 James Blunt shuts down question about why he was invited
British singer James Blunt may have shot to fame with his 2004 hit "You're beautiful" but these days he's perhaps better known as a poet with a character count.
Blunt can often be found on the micro-blogging platform trolling his haters. And today is no exception.
He took a few minutes from sipping champagne and eating canapes at the Queen's reception for the Duke and Duchess of Sussex to tweet back to someone who questioned his presence at the royal nuptials.

This royal wedding was different, and the Chicago bishop's address proves it
For many watching around the world, one of the breakout highlights of the service was when Chicago's Most Rev. Michael Curry took the podium.
Curry's inclusion in the order of service was, for many on social platforms, is a signal of a modernizing British royal family and a taste of what could come now that a woman of color has joined the "firm."
British lawmaker David Lammy gave the bishop a hand on Twitter, posting about his powerful performance on the international stage.
And for others waking on up at the crack of dawn to tune in, it was a delightful addition.
The meaning behind Meghan's intricate embroidered veil
All eyes were on Meghan Markle's massive 16-foot-long veil when she stepped out of car this morning and headed into the church.
But it was more than just a veil. The silk tulle veil was full of meaning.
The delicate, embroidered flowers that lined the veil represented the 53 commonwealth countries that she will be working with, fashion stylist Joe Zee told CNN.
Megan wanted to pay homage to those countries, he explained. One of them is Canada, where she lived for the past seven years. The Kensington Palace flower and California poppy were also represented.
"There is a lot personal meaning to her for this as well," Zee said.
More than 100,000 people visited Windsor for the royal wedding
The Royal Borough of Windsor & Maidenhead says more than 100,000 people visited Windsor today for the royal wedding.
We can confirm that just over 100,000 people have visited #Windsor today to celebrate the wedding of TRH the Duke and Duchess of Sussex #RoyalWedding
"Suits" congratulates its former star and her new husband
Suits — the TV show the new Duchess of Sussex starred in — sent a congratulatory message to the newlyweds.
Congratulations to the Duke and Duchess of Sussex!
Several "Suits" stars were at today's wedding, including Patrick J. Adams, who plays her love interest Mike Ross, Gabriel Macht (Harvey Specter) and Sarah Rafferty (Donna Paulsen). Abigail Spencer, who plays lawyer and Specter's love interest Dana Scott, Gina Torres, who plays leading lawyer Jessica Pearson, and Rick Hoffman (Louis Litt) were also there.
Meghan her final appearancein the show last month.
The royal wedding cake is sitting on gold stands
Kensington Palace has tweeted the first picture of the wedding cake.
Made by pastry chef Claire Ptak, who was raised in California and now owns London-based bakery Violet Cakes. It features a filling of Amalfi lemon curd and elderflower buttercream.
The cake has been decorated with Swiss meringue buttercream and 150 fresh flowers, mostly British, including peonies and roses.
The wedding cake is to be served at the Reception. It was designed by Claire Ptak and features elderflower syrup made at The Queen's residence in Sandringham from the estate's own elderflower trees, as well as a light sponge cake uniquely formulated for the couple. #royalwedding
The moment the world was waiting for
The Duke and Duchess of Sussex share their first kiss as a married couple on the steps of St George's Chapel, before setting off on a carriage procession through the town of Windsor #royalwedding https://cnn.it/2IBUwXz
Here's what the newlyweds and their guests will have for lunch
From CNN's Max Foster
Queen Elizabeth is hosting the first of two receptions today. It's being held at St. George's Hall in Windsor Castle, and about 600 guests are attending.
Here's what's on the menu:
First, they'll have a selection of canapés, including…
Scottish langoustines wrapped in smoked salmon with citrus crème fraiche
Grilled English asparagus wrapped in Cumbrian ham
Garden pea panna cotta with quail eggs and lemon verbena
Heritage tomato and basil tartare with balsamic pearls
Poached free range chicken bound in a lightly spiced yogurt with roasted apricot
Croquette of confit Windsor lamb, roasted vegetables and shallot jam
Warm asparagus spears with mozzarella and sun-blush tomatoes
Guests will also be served a selection of bowl food, including:
Fricassee of free range chicken with morel mushrooms and young leeks
Pea and mint risotto with pea shoots, truffle oil and parmesan crisps
Ten-hour slow roasted Windsor pork belly with apple compote and crackling
Sweet canapés will also be served, including:
Champagne and pistachio macaroons
Orange crème brûlée tartlets
Miniature rhubarb crumble tartlets
"Mummy, can we do it all again tomorrow?"
From CNN's James Masters in Windsor
As the noise of horses hooves and clinking of helmets began to sound on the Long Walk, small children in the crowd climbed onto the shoulders of their parents and grandparents to watch the Duke and Duchess of Sussex ride by.
The Duchess of Sussex waved to the watching crowds, her smile beaming across the world to millions across the world. The biggest cheers were reserved for Meghan and Harry, though Princess Charlotte drew some "awwws" after appearing on the big screen.
As people began to disperse and head towards the exits, it began to dawn that an event that so many had looked forward to for so long was over.
As one little girl asked: "Mummy, can we do it all again tomorrow?"
BBC Three compares today's crowd to Trump's inauguration
British television channel BBC Three tweeted two aerial shots — one from the royal wedding day and another from President Trump's inauguration.
Inauguration crowd size is a sore subject for Trump: After the National Park Service retweeted an image comparing his inaugural crowd size to Barack Obama's in 2009, the President reportedly called the acting director of the National Park Service to complain.
Newlyweds return to Windsor Castle
The Duke and Duchess of Sussex have now returned to Windsor Castle, traveling past the state apartments and on to the first of two receptions of the day.
The Queen will host an afternoon reception — starting from 2 p.m. (9 a.m. ET) — at St. George's Hall within the castle grounds. All 600 guests from the ceremony have been invited to the reception.
Later this evening, the couple will head to a smaller evening reception for around 200 friends and family hosted by Prince Charles, Harry's father, at Frogmore House, a country house south of Windsor Castle.
Meghan's dad is watching: "My baby looks beautiful"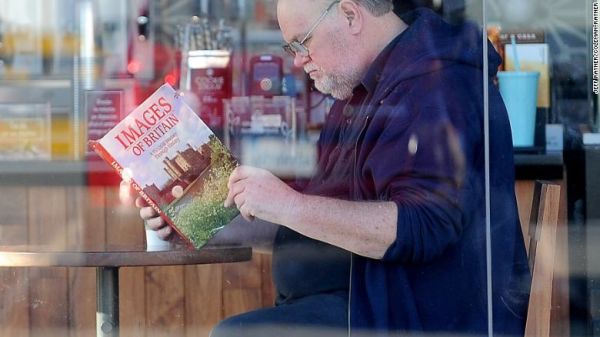 Meghan's father, Thomas Markle, told celebrity website TMZ that watching the royal wedding was "emotional and joyful."
My baby looks beautiful and she looks very happy. I wish I were there and I wish them all my love and all happiness," Markle said, according to TMZ.
Markle was supposed to walk Meghan down the aisle, but pulled out for health reasons. His decision not to travel to Windsor came after a week of family drama.
Some biked 30 miles to get here. Other crossed the Atlantic Ocean.
From CNN's James Masters in Windsor
Crowds been gathering on the Long Walk outside Windsor Castle for hours and now they're being rewarded for their patience. The Duke and Duchess of Sussex are riding through the streets of the town, and the procession will culminate with a roughly one-mile section of the Long Walk.
Lynne and Harold, clad in Lycra, cycled 30 miles to get here today.
"The roads were so clear it was wonderful, it was easier to get here than on a normal Saturday," Lynn said. She added: "It's been so lovely, everyone has been so friendly."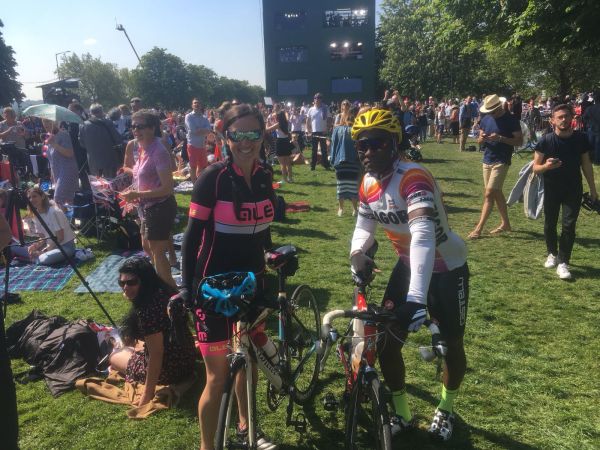 This group of friends from Nova Scotia, Canada, have a message of congratulations for the newlyweds.
This group of friends flew in from Nova Scotia, Canada, especially for the wedding. Here's their message! #RoyalWedding
Monique, originally from Nigeria but now living in London, says she's only here today for Harry.
"I wouldn't normally come to these events but it's Harry and I love him. He's my adopted son and I've loved him ever since his mother passed away. I prayed for him to have a good wife. Meghan seems like a nice person. It's a good match. She is making history and that's so important."