One big holiday question that's usually on a lot of people's minds: what gifts should I get the hostess, teacher, or boss for Christmas? Sherri French, our momprenuer from Spbang Snack Bags, shares some of her favorite gifts this season.
Lilywrap Reusable Gift Wraps: starting at $11.95 for 2-pack
An innovative reusable stretchy gift wrap, offers the chic look of traditional wrapping paper but with the ease-of-use and versatility of a gift bag. It's the perfect solution to save both time and trees this holiday season.
4 million tons of wrapping paper waste is produced during the holidays each year in the U.S. alone. The reusable stretchy fabric gift wrap with built-in bow offers same look as traditional wrapping paper without the waste.
Americans each spend approximately three hours wrapping presents during the busy holiday season. Now, easily wrap gifts of virtually any shape, size in just 30 seconds with simple "set, cinch, and tie" method. Watch how it works.
Beer Greetings Six-Pack Carrier Cards: $4.95 each or $15.95 for a 4-pack
Beer Greetings six-pack carriers and greeting cards offer the perfect way to gift craft beer this holiday season.
Craft beer is quickly becoming the go-to hostess gift for parties. The innovative six-pack greeting cards stand out in the crowd of wine bags, and are the best way to gift beer this holiday season.
Clever sayings adorn the front of each card with space on the inside to write a special note to the recipient.
Great gift for home brewers, coaches, neighbors, colleagues, and friends!
Perfect Slice Cake Pan: $19.99 to $39.99
Inch marks around the edge and a custom slicer makes these pans portion control bakeware.
Great for dieters and diabetics as well as anyone feeding a crowd who needs equal or uniform slices.
Comes with a Lifetime Warranty from BergHOFF.
Green & Lovely Lip Balm and Bath Salts
Candy Peppermint Bath Salts- $10.99

Relaxing Holiday Blend of detoxifying bath salts --- Pink Himalayan, Dead Sea Salts, European Sea Salts, & Epsom Salt.
Blended with Candy Peppermint fragrance derived from natural, plant based essential oils only.
Perfect for a natural spa like experience at home for your friends, spouse, co-workers, & family.

Nature's Silk Lip Balm- $3.75 each

Silky, long lasting silky moisture from high quality organic shea butter and organic oils, infused in non GMO vitamin E.
Green + Lovely's lip flavors are derived from natural, plant based essential oils and certified organic lip flavors only.
A delicious, natural, chemical-free treat for your family that is safe for children.
Give Lovely Holiday Cheer Gift Box: $35 to $75
Gifting made easy! Everything can be done online and the gifts are delivered to the recipient beautifully wrapped with a handwritten card within a few days!
Each item is beautiful and unique. Give Lovely does the work for you by picking the best gifts and dividing them into easy categories to make shopping easy.
Services are tailored to the customer. Select a curated box, create your own box or use our concierge service! They also provide corporate and event gifting services
Naked Tank Infinity Scarf: $24.99
The fabric is what dreams are made of. Light weight and crinkly, it is the perfect accessory to wear on those cool mornings, and when the weather heats up through the day, you can scrunch it up to nothing and throw it in your purse.
Classic take on the hosting gift, this scarf simply never goes out of style. Whether you're dressed up, or on your way back from the gym, this scarf instantly gives your outfit a pick me up. Either twist or wrap it around your neck, or simply let it sit draped on your shoulders
Breastfeeding moms? This scarf can also double as a chic nursing cover for moms that have a busy holiday schedule with parties and events. The cut is the perfect size for giving mom a little bit of privacy if she's nursing on demand.
Pine & Tonic Deluxe Men's Gift Set: $47 to $87
Premium fragrance and gifts designed just for men.
All products are travel ready (spill-proof, solid and subtle enough for everyday.)
Combining Woody Freshness with Pure Masculinity (Made in and inspired by the Rocky Mountains.)
Ella B Candles: $12 to $32
Each 100% Pure Soy Candle is hand-poured in the U.S.A.
Neighborhood candles are named after a local town, neighborhood, street or landmark.
The Custom Candle Collection allows customers to fully personalize their candles for holiday gifts, party favors and corporate giveaways.
Today's Special Giant Family Planner: $50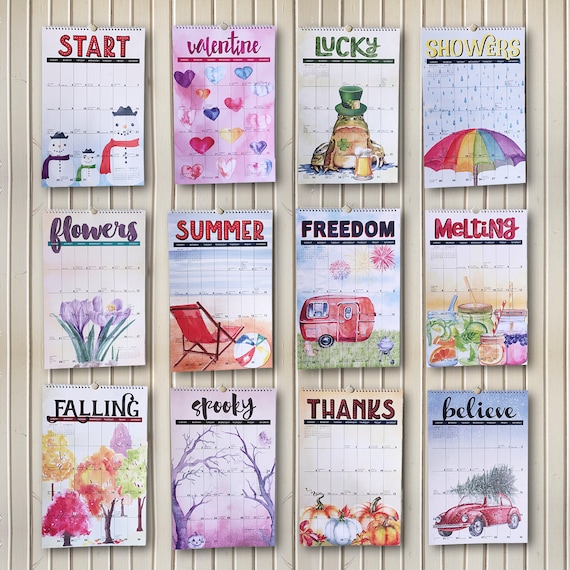 18x24 Poster-Sized calendar for family and celebration planning.
Includes all the normal holidays, plus fun additions like ice cream for breakfast day, talk like a pirate day, doughnut day, dress up your pet day and hundreds more.
Great gift for busy families.