HENNING, Tenn. (CNN) — An inmate who escaped from a Tennessee prison has been taken into custody, the Tennessee Bureau of Investigations (TBI) confirmed Sunday afternoon.
The Tennessee Department of Corrections attributed Curtis Ray Watson's capture to the "vigilant efforts" of search teams and resident tips.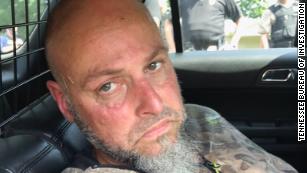 Curtis Ray Watson in police custody.
Watson was apprehended at 11 a.m. Sunday in Henning, where the West Tennessee State Penitentiary he escaped from on Wednesday is located, the department said in a statement.
Earlier in the day, the department confirmed a sighting of Watson in Henning.
Watson had changed his clothing and was believed to be wearing camouflage bib overalls and a hat, the Department of Corrections said Sunday. He was carrying a camp backpack, the department added.
Local residents have watched as law enforcement officials and K-9 units have descended on the area searching for him.
"It scares you. I mean, you don't know where he's gonna turn up or what else he's gonna do," Debbie White, who lives a few miles from the prison, told CNN affiliate WREG. "If he did what he did to get out, then to me he's a desperate man on the run."
The Tennessee Bureau of Investigation has said he's a suspect in the death of Debra Johnson, 64, a longtime corrections official who was found dead in her home on the prison grounds. Watson was seen at her home three hours before her body was discovered, investigators said.
Her co-workers discovered her body about 11:30 a.m. Wednesday after she didn't report to work. Hours earlier, at 8:30 a.m., corrections officers saw Watson on a facility golf cart at her home, the TBI said.