BERLIN, Germany (CNN) — Legendary Irish rock band U2 cut short a performance in Berlin on Saturday night, later saying that lead singer Bono had "suffered a complete loss of voice."
"We don't know what has happened and we're taking medical advice," said a statement signed by band members Adam Clayton, Larry Mullen and The Edge.
"We're so sorry for tonight's cancellation. Bono was in great form and great voice prior to the show and we were all looking forward to the second night in Berlin, but after a few songs, he suffered a complete loss of voice," the statement said.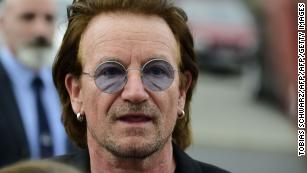 Bono in Berlin on August 28.
"As always, we appreciate our audience's understanding and all our fans' support in Berlin and those who traveled from afar. We will update you very soon."
The Mercedes Benz Arena, where U2 performed August 31 and September 1 as part of its experience+innocence tour, tweeted: "Get well soon, Bono."